Former members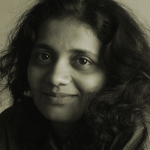 Aaloka Kanhere
Aaloka Kanhere was a post-doctoral fellow with the mathematics education group from 2009 to 2012. She is at present with Ekalavya, Hoshangabad.
Arindam Bose
Research Scholar
Arindam Bose is an advanced doctoral candidate in Mathematics Education. He holds a Master's degree in Mathematics and five years of teaching experience at the undergraduate level in Patna University, India. During this teaching stint, Arindam's involvement in the curriculum development of school education as a member of the mathematics focus-group of the Bihar Curriculum Framework 2006 motivated him to move into research in mathematics education.
For his doctoral dissertation work, Arindam explored the nature and extent of everyday mathematical knowledge possessed by middle grade school students living in an urban low-income settlement that has embedded in it a thriving micro-enterprise economy. The objective of the study was to unpack and document the connections between students' mathematical knowledge, work practices and identity formation, and inquire into the implications of these connections for school learning. His study argues that experiences from everyday work-contexts makes students familiar with artefacts and practices that represent a crystallised and embodied form of mathematics, which can be resources to make potentially powerful connections with school mathematics. The study further argues that school mathematical knowledge represents a form of generalisation or abstraction consisting of ideas or constructs that illuminates diverse instances in the everyday settings.
Arindam's key areas of interest in Mathematics Education are connections-disconnections between out-of-school and school mathematics, language diversity and math learning, and ethnomathematics.
Arun Mavlankar
Arun Mavlankar (deceased in 2014) was Scientific Officer with the mathematics education group. Arun was an active teacher educator with wide experience of schools and teachers in Maharashtra and outside. He was also a curriculum designer and textbook writer.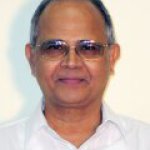 H. C. Pradhan
DAE Raja Ramanna Fellow, HBCSE,TIFR and UM-DAE CBS, Mumbai
H. C. Pradhan retired in July 2011, as Senior Professor and Centre Director, Homi Bhabha Centre for Science Education (HBCSE), TIFR. His areas of work include physics and mathematics education. Many of the current programmes were inspired or directly initiated by Pradhan. Together with Arun Mavlankar, he also pioneered mathematics education research at HBCSE.
Hari Mishra
Research Associate
Hari Mishra is a research associate in mathematics education research group at HBCSE. He holds a degree in Information Technology engineering from RGTU, Bhopal. After his degree, he taught for two years to undergraduate level in Vashi. During his teaching career, he realized  the challenges of the work of teaching, which pursued him to join the research group in Mathematics Education at HBCSE.
Currently Hari is engaged in investigating teachers' own voices in the forms of teacher diaries, logs and other records of teaching and exploring opportunities, where prospective mathematics teachers could have a dialogue with such materials. Moreover, he is supporting other research related activities run by the group through helping them in data analysis.
Hari is also an active resource person for workshops on mathematics laboratory for teachers and students.
Rakhi Banerjee
Associate Professor, Azim Premji University, Bangalore, India
Rakhi has a Bachelor's and Master's degree in Mathematics from Delhi University, a Bachelor's and Master's degree in Education from Delhi University and a Ph. D in Mathematics Education from Homi Bhabha Centre for Science Education, Tata Institute of Fundamental Research, Mumbai.
She has taught at various levels of education: school, undergraduate programmes and postgraduate programmes. Prior to joining Azim Premji University, she has held faculty positions at Tata Institute of Social Sciences, Mumbai and Ambedkar University, Delhi. She has been developing and teaching courses in Child development, Cognition and Learning and Mathematics Education.
Her doctoral work, carried out at the HomiBhabha Centre for Science Education, Mumbai, was on developing a learning-teaching sequence for grade 6 students to help them understand beginning algebra based on their prior understanding of arithmetic. Subsequently, her work has focused on looking at curriculum, textbooks and their transaction in the classroom, highlighting students' and teachers' role in the process.
Ruchi Kumar
Research Scholar
Ruchi is an advanced doctoral candidate in Mathematics Education. She holds a masters degree in Biology from Delhi University and a bachelor and masters degree in education from CIE. She taught for six years in a primary school in Delhi; during her teaching career, Ruchi felt systemic constraints, isolation present in the job of teaching and problems of teaching that are inherent to content knowledge required to teach. Her sensitivity to educational issues and students' learning persuaded to join PhD in mathematics Education.
For her doctoral dissertation work, Ruchi explored the nature and extent of teacher knowledge and beliefs in, a professional development setting, during collaborative lesson planning meetings with peers and in their classroom practice. Her work examines what conceptual meanings are constructed when teachers encounter interactions that consist of theories from research and experiences of other teachers.
Ruchi's key areas of interest in Mathematics Education are teacher beliefs, knowledge and practices, teacher education and designs for professional development programs.
Tuba Khan
Project Scientific Officer
Tuba Khan is a research associate in the mathematics education group at HBCSE. She holds a bachelor degree in Chemistry from Mumbai University, a bachelor and masters degree in education from Mumbai University, and a masters in Urdu from Varanasi University. For her masters degree thesis, Tuba studied secondary school teachers' attitudes towards the use of technology. Her experience as a researcher during masters brought her to the mathematics education research group. Currently, she participates as a teacher and co-researcher on multiple projects. Her research interest are around teacher learning to teach – mainly at pre-service level, and connecting students' out-of-school knowledge in classroom teaching. Tuba is also an active resource person for workshops on mathematics laboratory and teacher professional development.