Property of Circles (A Teaching Aid)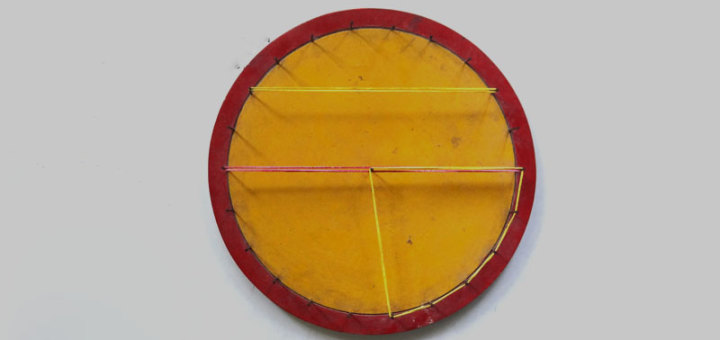 Material Required: Plywood or acrylic board cut in the form of a circle, pegs, rubber bands.
This is a teaching aid which can be used to illustrate the angle properties of a circle. These properties are generally not obvious to most students.
The teaching aid consists of a circular piece of plywood or acrylic of about 8 inch diameter. An inner circle of about 7 inch diameter is marked out on the acrylic or wood. A few holes are drilled on the inner circle and at the centre as shown in the figure. At least some of the holes on the circle must be diametrically opposite to each other.
Put pegs on two holes which are diametrically opposite to each other and stretch a rubber band over the two pegs. With the third peg on any other hole, measure the angle subtended by the diameter on the circumference. By stretching a rubber band over four pegs on the circumference verify the angle property of a cyclic quadrilateral. Similarly verify the equality of angles in the same segment. The alternate segment theorem can also be demonstrated with this teaching aid.