Hypsometer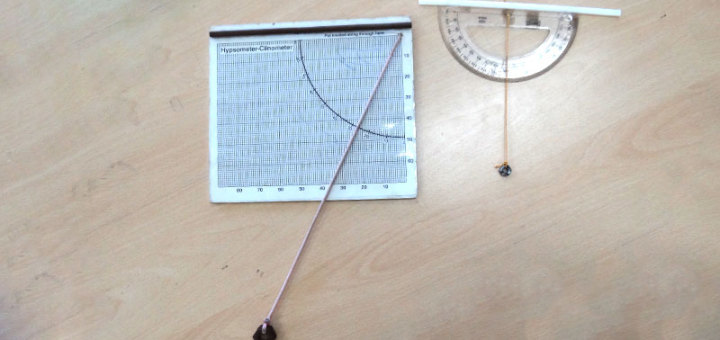 Material Required: cardboard, graph paper(optional), hollow chart paper tube or curtain rod about 10 inches long, string and small heavy object to be tied to the string as a bob.
This is a modification of the astrolabe, which uses the property of similar triangles to estimate heights of tall objects. With this change it becomes much easier to estimate the heights since we do not use trigonometric ratios. So it can also be used by a student who is not yet introduced to trigonometry.
To make the hypsometer first cut the cardboard into a rectangle of size 10" x 11". Paste a sheet of graph paper in inches or plain paper on the cardboard. Draw a 10" x 10" grid on the cardboard as shown in the figure. Graduations in tenths of an inch are marked on the bottom line of the grid. (This is not necessary if one uses a graph paper with inch squares.) Now fix the hollow tube at the top on the first row and suspend the string with the bob from the tube at the first point, that is at the right hand top corner of the grid, as in the figure.
To use the hypsometer, hold it parallel to the ground such that the string covers the first line (which therefore becomes vertical). Now looking through the tube point it to the top of the object whose height is to be estimated. Ask your friend to note the reading where the string crosses the bottom line of the grid drawn on the cardboard. This is the distance from the right most vertical line and is the hypsometer reading. Now using the following formula we can find the height of the object from your eye line:
height =(hypsometer reading/10) x distance of object
Add your height to this, which gives the height of the object from the ground.